Alcoura's team has a wealth of experience in facilitating high quality, diverse and sustainable health and care markets.
As more and more people are able to commission and choose their own care and support provision, this creates challenges for CCGs, CSUs and local authorities as they no longer have the same level of control of the market as they would have had previously through direct purchasing and block contracts.
At Alocura, we take a 'shaping and facilitation' and 'place-based' approach, working alongside commissioners, providers – and people receiving care and support.  We assess what support is required and make sure this is available at the right price – at the right time – and that where possible this is coordinated across health and social care.
Market management must be done collaboratively and facilitating a diverse market of personalised care and support requires specialist skills and support.
Our approach is to carry out a robust market analysis and a strategic market review, restructuring and managing the market so it operates more effectively.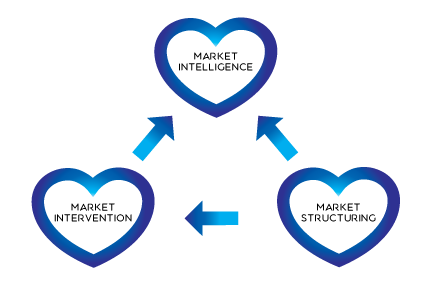 Market analysis
We help you to understand your market better, we look at:
The current landscape of the local care and support workforce

What outcomes people feel are important, how these are being delivered currently and what services or provision is missing, based on reviewing current care and support plans 

Intelligence on the quality of the local market

Understanding of the current contract arrangements at, service, cohort and individual level

Opportunities for contract variations for more personalised working, un-bundling tariffs and setting local unit costs

Analysis of current joint strategic commissioning plan (if in place)

Assessment of future requirements

Development of consistent local indicators and analysis methods for regular monitoring
Market structuring and intervention
We then support our clients to develop a strategic plan for intervention and implementation to ensure sufficient provision of health and social care services.
This includes:
Developing a health and care market driven by people and communities

Encouraging and motivating providers to shift their approaches to focus on people and the outcomes most important to them

Standard service specifications

Developing a unit pricing mechanism which will allow activities to be transacted at a unit cost level

Repurposing contracts to support Integrated Personalised Commissioning

Establishing clear systems and processes to release funding from current contracts

Facilitating procurement processes in order to agree prices for a standardised menu of goods and services enabling personal budget and personal health budget holders to make informed buying decisions

Provision of a local eMarketplace providing personal budget holders access to a web-based catalogue of goods, services and community-based support available in their local area
Ready to learn more? Let's talk.